Most barn types have a link to American culture. Each has its own unique purpose and charm. Here in Oklahoma, we see various styles of barns, old and new. The reason for this is that our history indicates that many different types of people settled here in the Tahlequah area, from farmers to horse enthusiasts to tradesman and even large families needing extra storage.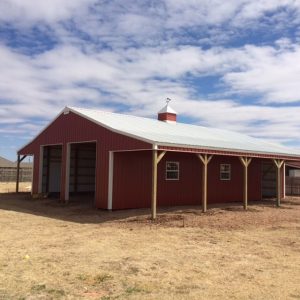 Pole Barns
The most common type of barn in green country now seems to be pole barns (or post frame / metal barns). This type of barn offers practical cost of construction, sturdy frames, flexibility and are able to last a very long time. Pole barns in Oklahoma seem to have risen in popularity over the years, and can be seen in most of the countryside that you see today. Post frame construction barns are our specialty at Legacy Barn Company, but it's important to be familiar with the various styles and frames of common barns here in the United States.
Bank Barns
Bank barns are quite popular here in the Midwest. Ideally, they are rectangular buildings with two levels. The first bank barns were built in the 1800s and gave farmers access to storage areas with wagons loaded with hay or wheat. They are constructed mainly with their axis parallel to the south side. In some regions, barn walls are made of rock or wool.
Dutch Barns
These types of barns are not as popular here in Oklahoma, but are quite common in northeast states such as New Jersey and New York. They are the oldest and the rarest barns known for their corner stock doors, gabled roofs, center wagon doors, and clapboarding. They have a unique H-shape that provides core support to the gabled roof.
Tobacco Barns
Quite popular throughout the East and South, they serve unique functions since they were created about four centuries ago. Their primary purpose was to create a place for the tobacco farmers to dry and their tobacco after harvesting. They are designed to allow maximum ventilation because airflow was required to cure tobacco leaves. The traditional tobacco barns have long, vertical doors made of timber or oak.
English Barns
Besides the Dutch barn, the English barn was one of the first to be built in America. These types of barns have a simple design that was used during colonial times, especially Vermont. They borrow a lot from barns found in England. The barns are made from wood and have hinged wagon doors. Interior of the barn has a threshing floor and a center aisle. Livestock were placed on one side and the feed on the other.
To learn more about our affordable and efficient pole barn specials, please visit our Oklahoma pole barn gallery.